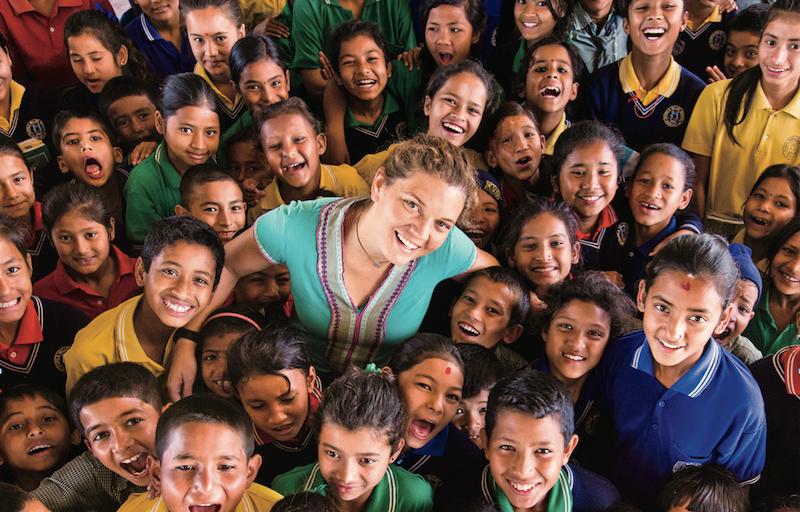 Maggie Doyne
We are inspired by so many mothers who have intriguing stories about their family lives and professional lives - this week's feature on The Edit is one whose family life and professional life are perhaps more intertwined than any other mother we've met thus far. 

Maggie Doyne's teenage years included taking a gap year from school and trekking through the Himalayas. Along her way, Maggie was shocked by the poverty stricken villages and realized she wanted to help. She spent the next couple years building a home for the children she met during her travels…and now, she is even a mother to some of them. Read on to learn more about how her her travels shaped the rest of her life.

Your path to becoming a humanitarian began when you took a gap year before college. What advice do you have for other parents, whose children are interested in gap years to take on similar challenges?
I really don't think college is something that should be rushed or forced. The point of education is to learn, expand, find your calling and your passion which hopefully leads you to work that feels fulfilling and meaningful.There are many ways to do that. For me it was travel. 

You won the CNN Hero of the Year Award a couple years ago - who are some of your personal heroes?
I have so many! My co-founder Top Bahadur Malla is someone I really respect. I love the perspective he brings to our organization, especially after having been an orphan himself. From Nepal I also really respect the work of Anuradha Koirala and Pushpa Basnet. For parenting advice it's Dan Siegel. Then there are the obvious ones like Ghandi and Martin Luther King.
There are so many ways to help and "do good", how can families start small?

Find a cause that resonates with your heart. Learn everything you can about how to make an impact in a responsible way, and go for it! Also, remember that there are a lot of organizations out there that need support. Instead of creating your own organization, maybe support and align yourself with an existing one that shares your vision for a better world. 
We can imagine that running such an organization leaves you with little time to yourself - what is your favorite way to indulge in self-care?
Netflix with my husband and giggles with my baby. And, when I'm not in Nepal, a hot bubble bath. Hot water is such a treat. 
What words of wisdom would you share with a parent who simply feels like they don't have time to take care of themselves?
The struggle is real. I do self-care activities with my kids. We do quiet reading time, go for walks to the rice paddies, sometimes we even do a little spa night with face masks and nail polish! I try to model self-care for them so they don't look back on their childhood and say, "gosh mom was always so stressed!" And also so, as they grow, they understand that self-care is an important. 
How do you celebrate birthdays?

We have a family ritual called satsung. The whole family makes a circle and we take turns telling the birthday boy or girl all the things we love about them. Then the birthday boy or girl gets to ask anyone in the circle to dance or sing for them. It's a lot of fun! 

Favorite game to play with your children?
My favorite thing to do with my children is blast music in the kitchen, silly dance, sing at the top of my lungs and cook together. Oh and monopoly. I'm very competitive and it's definitely rubbed off on them. We also play family kickball and capture the flag - Family games are so much fun. 
In an interview with Joanna Goddard, you mentioned "you build up your toolkit" as a parent. What are essentials in your parenting toolkit?
In regards to the toolkit - I was referring to the different things you need when raising different types of children. They all need something different - you have the overachiever and the one who doesn't study at all; the super athletic kid and the one who doesn't like sports at all. They all need different parenting. I've learned to build up a toolkit and just do the best I can.
 
I love the family virtues guide. I read lots of books and blogs and parenting guides. There are so many good tricks out there for people who have done this before. I also surround myself with mothers and women I can count on for advice or when I feel overwhelmed or in over my head. I've made sure to build a strong team around me. I love the people who raise my children with me, the aunties and uncles and our caregivers, Sachyam and Aakriti. We have some amazing family rituals and routines - we hug, we play, we have family meeting, and game days, we support each other, we laugh and we talk things out when we need to. It's a lot of work but we have an amazing team. 


For more information on BlinkNow you can visit their website here